By Donna Sachet–
Well, it was quite a holiday period! Despite the specter of COVID looming over the past two years, December has come alive with events both large and small, public and private, both commercial and charitable, somehow easing the tearful memories and loss. pain behind us. Since our last column, we've been to Union Square, Club Fugazi, Brava Theatre, Grace Cathedral, Victoria Theatre, Sydney Goldstein Theatre, Martuni's and more, proving that entertainment in all its forms is return to San Francisco.
Drag Queens on Ice at the Safeway Ice Rink in Union Square couldn't have been nicer with the biggest crowd of spectators ever and the best skating we've seen. We were dazzled by Khmera Rouge, Paju Munro, Mahlae Balenciaga, Baby Shaques Munro, Jota Mercury, Jubilee, Dusty Porn, and poppy princess and finally a tour de force by Denali of RuPaulThe drag raceand Olympic champion Brian Boitano, lip sync for their lives! Sister Roma and Queen Dilly Dally hosted and we co-host with the delightfully funny Robert Keith. After last year's cancellation, Drag Queens on Ice came back bigger and better than ever!
After hearing good things about the theatrical show that has taken up residence at Club Fugazi, former home of Babylon beach blanket, we decided to see it for ourselves. And we give Dear San Francisco, a nostalgic look at the city through the eyes of circus collective The 7 Fingers, a resounding endorsement! Prepare to be amazed by breathtaking acrobatics, beautifully choreographed vignettes, powerful singing voices, charismatic performers and a lovingly woven story of this magical place we call home. The action explodes from the stage through the proscenium and into the audience, alternating between hypnotic sequences and maniacal percussive numbers, each holding your attention in a way few performances can. What more can be said ? Buy your tickets quickly, bring your friends and spread the word!
We joined Gary Virginia by organizing a celebration of life at 440 Castro for our dear friend KC Dare, one of many lost over the past two years without a public ceremony or typical event. Friends came from Palm Springs, New York and all over California to pay their respects. The flowers, food and program were top notch, thanks to Gary's meticulous planning and generous help from Ben and Moxie Penn and Deana Dawn. A few speakers and songs provided insight into this generous friend who will be sorely missed. The event ended with a New Orleans-style funeral parade down Castro Street. Even in our current health crisis, there is a way to honor a loved one with care and planning.
Help is on the way for Holiday XX filled the Brava Theater with world-class talent, beautiful music and hilarious humor. Interpreters included Lisa Vroman, David Burnham, Bruce Vilanch, Sharon McNight, Leanne Borghesi, Marta Sanders, Shawn Ryan, Paula West, Barbary Coast Cloggers, and salsamania, each receiving deafening applause and putting everyone in the holiday spirit. One of the biggest surprises of the evening was the return of the dashing Lenny Broberg as an auctioneer, a talent he honed over the years with humor and panache. Congratulation to Ken Henderson and Joe Seiler and everyone to the Richmond/Ermet Aid Foundation for returning with such an expertly produced holiday show, in aid of Project Open Hand.
The Rainbow World Fund Tree of Hope was illuminated in Grace Cathedral with a beautiful program of music and spoken word to the delight of a huge and diverse crowd. Executive Director Jeff Cotter has tirelessly devoted hours and days each year to ensuring that the World Tree of Hope continues, providing a glimmer of optimism even in the darkest of years. The San Francisco Boys Choir got us started, followed by the pianist Tammy Lynne Hall Hawkins singer Loberta Loral, Bay Area Indigenous Chief Landa Lakes, City Assessor-Recorder Joaquin Torres, origami artist Keiko Kubo, Reigning Emperor Mr David Glamamore, Imperial Crown Princess Katya Smirnoff-Skyy, the Lesbian/Gay Chorus of San Francisco, and even the Bishop of California, the Very Reverend Marc HandleyAndrus. Remarkably, Grace Cathedral continues to stand tall. We especially enjoyed reading, with two local students, some of the wishes and hopes written on the origami covering the tree. Finally, members of the Sisters of Perpetual Indulgence blessed the tree and led the countdown to its lighting, as countless photographic flashes captured the moment. Find the World Tree of Hope in the Keith Haring Grace Cathedral Interfaith AIDS Memorial Chapel.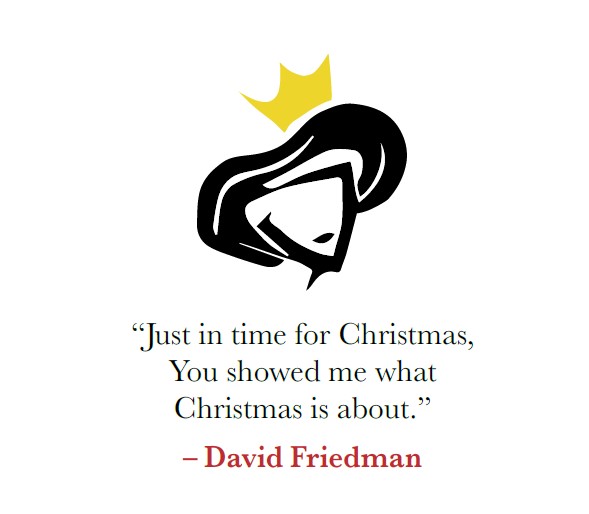 The directory Golden Girls Christmas The re-enactment of dragsters at the Victoria Theater has become an undisputed crowd pleaser. We joined Brian Kent for a loud night of hilarity with Heklina, Holotta Tymes, D'Arcy Rollinger, and Matthew Martin each embracing their roles with perfect comedic timing, facial expressions and body language. Creative sets and colorful costumes echoed the original TV series. The packed audience left crying with laughter. Don't miss this winning combination of nostalgia, drag, kitschy costumes and holiday magic.
Speaking of crowd pleasers, we joined Gary Virginia for the SF Gay Men's Chorus' The holidays are here… again at the Sydney Goldstein Theatre. This concert had everything we all love about this choir: beautifully performed music, touching holiday moments, campy choralography, outstanding solo performances, nods to every possible holiday tradition, and more. The choir showed particular eagerness with stimulating rhythmic songs and fast lyrics. In a venue of this size, health and safety protocols were visibly inconvenient and time-consuming, but everyone seemed cooperative and friendly. After months of suspension of concerts and even rehearsals, the SFGMC burst onto the stage with power and heart, expertly guided through the varied program by the artistic director Tim Seelig, who frankly left us wishing he had spoken more. We can't get enough of his dry Southern humor and drawling charm. After his recent announcement of impending retirement, the coming season will be bittersweet knowing all that Tim has done for this historic and much-loved choir. You still have the chance to hear the SFGMC at the Castro Theater during one of their three Christmas Eve concerts.
Finally, Emperor XLVIII William Bulkley product Christmas birthdays are a drag at Martuni on Sundays, hosted by the inimitable Imperial Crown Princess Katya Smirnoff-Skyy.live singers were the theme, in tribute to the late Nightingale of Montgomery Street, Absolute Empress I Jose Sarria, who would have celebrated his 99th birthday on this date. Despite the rainy streets outside, a loyal group of supporters gathered to hear BeBe Sweetbriar (demonstrating the vocal skills that put her on the Billboard charts), Honey Mahogany (displaying a beautiful soulful voice, unknown to many), Absolute Empress LII Mercedez Munro (bringing the house down with her powerful voice), and this humble columnist/singer. Ticket prices and a quick raffle raised money for the highly anticipated and upcoming 50th anniversary of the Emperors of San Francisco, making one wonder where the other Emperors were that night. What a pleasure to discover wonderful music created by voices within our community!
So, as we began this column, we found new hope in December as most of the canceled or virtual events last year bounced back into a live format and audiences happily came back to cheer them on. We're not yet beyond the cloud of this pandemic, but true to San Francisco's reputation, we're people who find a way…a way to take proper precautions, a way to listen to expert advice and a way to come back to life, as we have come to love it. We hope your holiday season was as full as you hoped and rich in the company of friends. Thank you for reading us here every two weeks. thank's for Betty Sullivan and Jen Viegas for this wonderful opportunity to write and be read. And our best wishes to all of you for a fabulous 2022!Donna Sachet is a celebrated artist, fundraiser, activist, and philanthropist who has dedicated more than two decades to San Francisco's LGBTQ community. Contact her at empsachet@gmail.com
---
Sachet Calendar
Friday and Saturday December 17 and 18
Katya: a spectacular holiday
14th Annual Music and Comedy Show
Hotel Nikko, 222 Mason Street
8 p.m.
$65
www.ticketweb.com
saturday 18 december
Naughty nice
Holiday party hosted by Donna Sachet and Santa's elves
Music, cocktails, desserts
8pm-midnight
www.academy-sf.com
Friday, December 24
Home for the holidays
SF Gay Men's Choir Concert
Castro Theater, 429 Castro Street
5pm, 7pm & 9pm
$35
www.sfgmc.org
Friday and Saturday December 24-26
29th Annual Kung Pao Kosher Comedy
Lisa Geduldig's Virtual Jewish Comedy Show
$25 to $50
www.cityboxoffice.com
Posted on December 16, 2021