Editorial correction [1:20 p.m. Dec 17, 2021] The EMI Holiday Party on December 17 from 7 p.m. to 11 p.m. located at 1618 Hewitt Ave in Everett, will be at lucky penny and NOT the Everett Mall.
Snohomish County, Washington, December 10, 2021 – The Christmas tree lights have been turned on at Silver Creek Family Church for the annual tree lighting ceremony, but that doesn't mean the festivities are over.
Keep the holiday spirit alive with the following upcoming events throughout Snohomish County.
Lynnwood
Dinner with Santa at Chick-Fil-A3026 196th St SW, Lynnwood, WA 98036
On Tuesday, December 21, from 5 p.m. to 7 p.m.., Santa Claus will spend time in Lynnwood Chick-Fil-A's drive-thru, smiling, waving and bringing holiday cheer to anyone craving the chain's famous chicken sandwiches. Come say hello and, who knows, you might be on Santa's nice list for the year!
Holly House Holiday Toy Drive
Those who live in the Lynnwood area and are hoping to give back this holiday season should consider visiting Holly House's Holiday Toy Drive.
Do you want to encourage your little ones to give? Help your kids sort through their books and stuffed animals to find "new or like new" toys they no longer use.
Holly House is a children's holiday gift program that provides gifts and necessities to low-income children primarily in the Edmonds School District of Lynnwood during the holidays.
Drop off new toys and necessities at the Holly Homes Community Drop-Off site at Sparta's Pizza at 76th and Hwy 99 or browse their Amazon Wish List.
Beginning as a grassroots operation in 2006, Holly Homes has grown to serve 2,200 low-income children in 16 schools in the Edmonds School District.
The giving doesn't end with toy donations, however. Holly Homes is always looking for volunteers to fulfill its dream of improving the lives of underprivileged children. For volunteer or donation opportunities, visit https://www.hollyhouseforkids.org/donate-financially.html.
Christmas at the Charisma Christian Center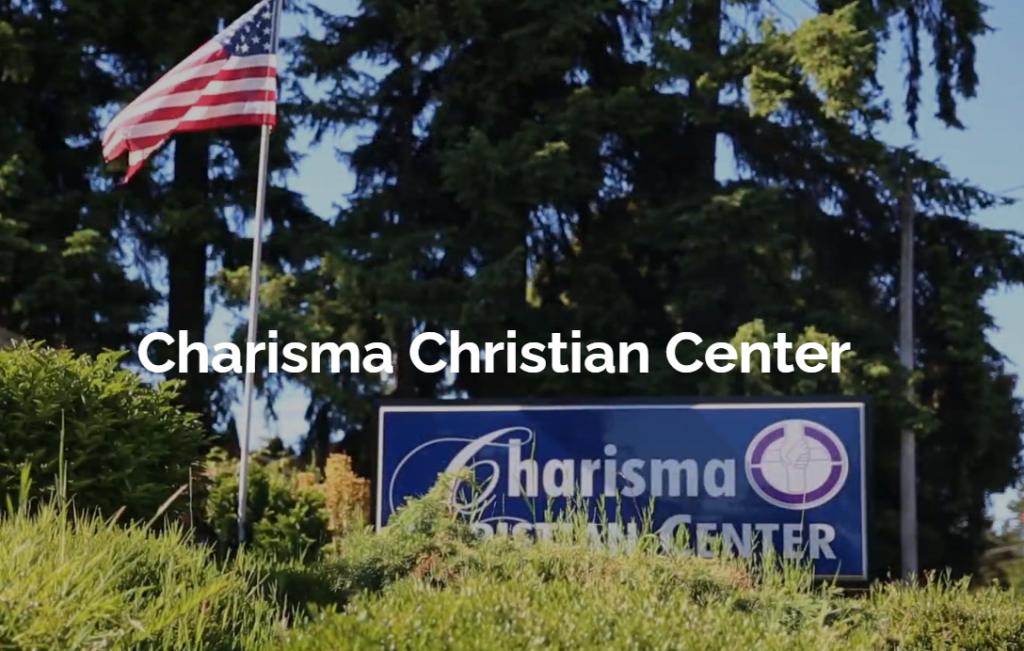 Join the Charisma Christian Center for a Christmas celebration on Sunday, December 19 at 11:30 a.m.. Friends and family are welcome.
After their 11:30 a.m. service, which includes music and singing from Charisma Kids Ministry and a special Christmas dance performance, they will meet for a potluck lunch and more fun, including photos with Santa, make-up and gifts for new visitors.
Lynnwood Lights
Drive through a Lynnwood neighborhood famous for its annual Christmas light shows at Lynnwood Lights.
Located at 1409 172nd Place South Westjust five minutes from the Alderwood shopping center the exhibition takes place every evening from 5 p.m. to 9 p.m. until January 1. Shows start every 30 minutes and last approximately 18 minutes each.
Attendees can even tune their radio to FM 103.1 to set a holiday-themed score on the miraculous display. This is a must see show for the whole family.
Everett
Holiday Lights Race (Tuesday, Dec. 14, 6-7 p.m.), can park at Costco Gas Station, 10200 19th Ave SE, Everett, WA.
Join a sporting good time for the Holiday Lights Run in Everett's Fir Grove neighborhood.
Every year, thousands of cars filled with wide-eyed vacationers slowly zip through the brightly lit neighborhood of Fir Grove in south Everett. The 20-plus-year tradition of homes lit up with ridiculous amounts of Christmas lights and front yards decorated with holiday characters is a favorite annual event for many families in December.
Tourists donate canned food and money to benefit the Volunteers of America food bank. The richly decorated houses are located between 100th Street SE and 104th Street SE, in the area of ​​21st Avenue SE. Santa's donation collection site is on 21st Avenue SEjust past the 100th Street SE entrance to Fir Grove.
Interested persons are encouraged to do the following:
Bring a food donation (you will need to run or walk with your donations)
Wear light gear (a headlamp/flashlight or your favorite holiday lights)
Everett Mall Holiday Music Series
Jolly hits up Everett Mall to listen to the holiday jingles on Dec. 9 and Dec. 23 from 4-6 p.m. Kristen Marlow will perform on December 9 and Sean Morse will perform on December 23.
The concerts are part of the Live in Everett's Everett Mall holiday music series and are held at 1420 SE Everett Mall Way.
Lucky penny
On December 17 from 7 p.m. to 11 p.m., the Luck Dime located at 1618 Hewitt Ave in Everett, will host the EMI Holiday Party, featuring covers and originals by local artists. Admission is $10 and proof of vaccination is required for entry.
Everett Mall Gift of Warm Winter Clothing for the Holidays
As you dance to live music at the Everett Mall, it's important to remember those without warm clothes as temperatures in Washington continue to drop.
Everett Mall is partnering with Volunteers of America Western Washington to host a warm clothing drive inside the mall. Anyone interested can bring new or lightly used warm clothes to the Volunteers of America box at the entrance to the indoor mall.
Donations can be dropped off at the interior entrance near Old Navy at the following times:
Friday, December 10: 10 a.m. to 8 p.m.
Saturday December 11: 10 a.m. to 8 p.m.
Sunday, December 12: 11 a.m. to 6 p.m.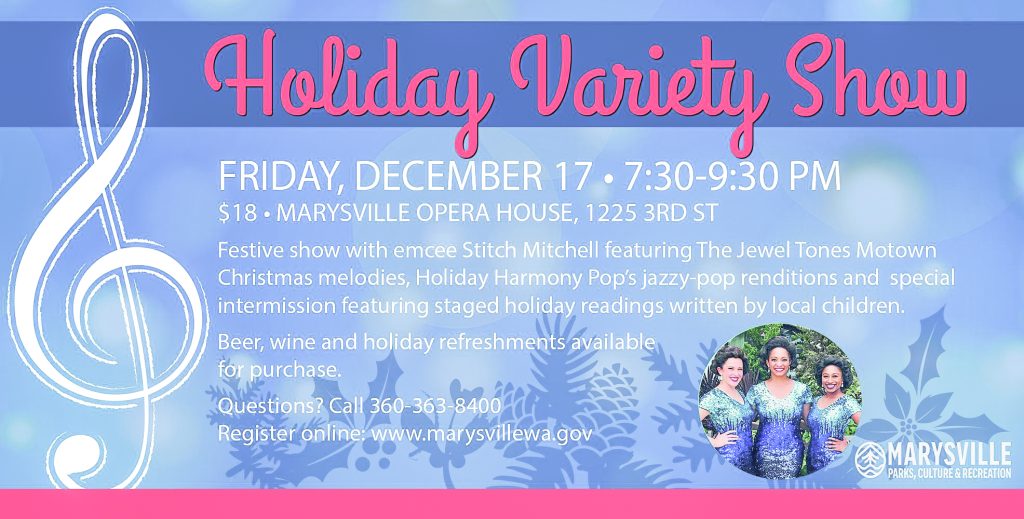 Edmonds
Edmonds Holiday Market (Saturday, December 11 and 18, 10:30 a.m. to 3 p.m.), 121 5th Avenue North, Edmonds, WA.
The Edmonds Holiday Market is a two month opportunity to find the perfect, locally made gift, just in time for what is sure to be a wonderful holiday season. For many, the market is an annual tradition, followed by a stroll through downtown Edmonds, shopping and meeting up with family and friends over a meal.
This year 3 Generations Jam is represented at the market, a family run business making small batch artisan jams and syrups from local, clean and/or certified organic fruit that they source from local farmers they know and trust.
Vicki Nuñez-Remtulla of Cordially Sweet Candle Co. features her hand-poured soy candles (all-natural, non-GMO, vegan) with a wooden wick that makes a "crackling sound like a mini fireplace." Talk about creating a little holiday vibe!
Seattle's Culture Shock Brew brings their whole fruit kombucha with healthy live cultures.
Over 60 vendors signed up to offer everything from coffee beans and toffee dumplings, mushrooms, flowers (yes, Teng's Garden is back!), Indian street food, whole fish, Filipino food 88 Cues and grass Chuckanut Beef beef and lamb.
Edmonds, with that special hometown charm, will put on a show with a wonderland of lights, music, holiday wreaths and storefront greetings, and rides on the Holiday Trolley with Emily the Holiday Elf the Saturday. Eat, shop and be merry and join other families on Saturday at the market.
Edmonds Crowns Walk (Until December 16, 8:00 p.m.)
The second annual Garland Walk in Edmonds continues to be displayed throughout December 16th.
Last year, Art Walk Edmonds launched a new tradition downtown, the Wreath Walk Edmonds! This new tradition of hanging original, artist-designed and decorated wreaths in select window displays during the holiday season is back from November 18 to December 16 with an online auction for those who want to take home the one of those special crowns.
Art Walk Edmonds evaluated wreath designs to choose the best of the best in these unique wreaths. The artists thought 'outside the crown' with their designs, each representing the artist's unique style. Learn more about the crown artist by reading his biography listed next to the crown and on the auction page.
All proceeds from the wreath auction benefit Art Walk Edmonds, a 501(c)(3) non-profit organization dedicated to supporting the arts in Edmonds.
Winter Bazaar Holiday Sale
On December 11, from 9 a.m. to 5 p.m., the Maplewood Rock and Gem Club will host a Winter Bazaar holiday sale featuring rock, gem, jewelry and crystal vendors selling their wares at discounted prices.
Located at 8802 196th Street SW, the Holiday Sale is sure to have the perfect gift that dazzles, and your business will support local artisans, collectors and lapidary artists.
Stevens Lake
Lochsloy Acres Christmas Tree Farm
Nothing quite says Christmas in the Pacific Northwest like tapping into your inner lumberjack. Cut down your own Christmas tree at Lochsloy Acres until December 13 by appointment only.
Located at 5511 SR92, interested individuals can saw tall fir, noble fir, fraser, douglas fir, turkish and balsam fir to decorate their home while also felling plastic trees. Saws, wreaths, branches, tree stands, and other loot are also available.
To schedule an appointment, visit https://www.signupgenius.com/go/9040a4ba8a72da7f49-2021.